Ryupro, Inc.
Ryupro, Inc. is a cartoon production company founded in 1970 and headquartered in Shonan, Japan.
Masterpiece: Sabuyan(1971), Ajihei(1974), Dokuro(1979), Kuishinbo(1983), Mantaro(1983), Bohemian(2002), and more.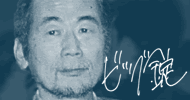 Chief Creator : Big Joe
For more information about Ryupro, Inc.
and new business inquiries, please e-mail us.

hello@ryupro.com
For other inquiries and site specific questions,
please contact.

webmaster@ryupro.com


Post this logo on your web page.

Back to Top